This page is best viewed with BlackChancery
Navigator's Place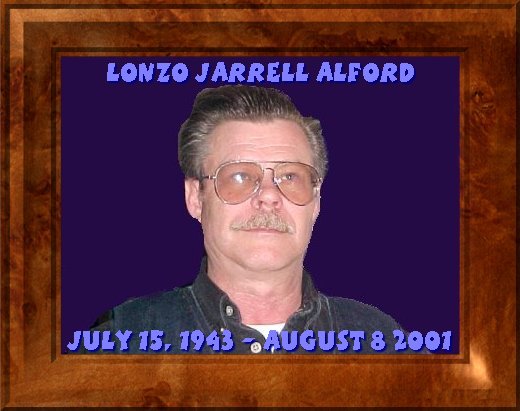 This is Navigator,
A wonderful man, and AWESOME friend :)
Originally I made this page for him, so he'd have a home page!
Now this is my memorial :)
Hold on tight, and get ready for
One Wild Ride !!!!!
---
Lonzo passed away August 8th, 2001
The bright sparkle in your eyes,
Your quick smile,
And the love in your heart!
Will be in my memory forever!
My friend, you will be greatly missed!
Obituaries
Friday 10 August 2001
Lonzo Jarrell Alford
Lonzo Jarrell Alford, 58, of Quincy died Wednesday.
The service will be at 3 p.m. Sunday at Independent Funeral Home in Quincy (875-1529), with burial at a later date.
A native of Richmond, Ga., he was a lifelong resident of Gadsden County. He was employed by the Leon County Sheriff's Department and was a member of Jackson Lodge No. 1, F&AM.
He is survived by his wife, Sandra L. Alford of Quincy; a daughter, Lisa Guancial of Quincy; his parents, Coy T. and Minnie Lee Alford of Quincy; a brother, Tommy Alford of Quincy; three sisters, Loraine Jarrell, Kathy Jarrell and Karen Jarrell of New Jersey; and a grandchild.
More Pics
Another Memorial by Cinn!
---