"Blue Horizon" by Chris Tilton
Please enjoy your travels through The Myst !!!
---
---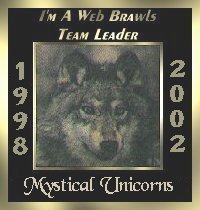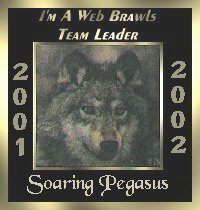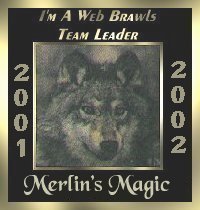 I was Proud Pixie Guardian in Paradise too !
And Keeper of the Master email list, and Web Brawls Birthdays !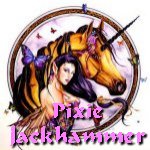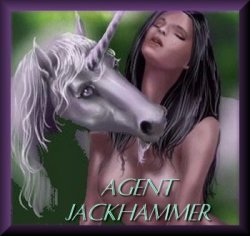 ---
---
The Myst is a place where UNICORNS and other animals abound in harmony.
I love the mystical... UNICORNS, DRAGONS and WOLVES,
faeries, elves and everything else that is mystical.
I also Love Web Site Competitions, and I ran four teams at The Web Brawls !!!
I am a dedicated wife, and the mother of three wonderful children,
and really enjoy working with computers, it honestly keeps me sane :)
I'm an animal lover :) and these are the pets I have !
A lab-cross(Mickie), 6 cats(Monster, Smokey, Domino, Goofball, her daughter Doofers and Jaws),
3 budgies(Angel and the others don't have names), a cockatiel(Pretty Boy), a rat and a mouse(both my daughters),
7 degus(Matthew didn't name the 2 and they just had a litter of 5) and 1 betta !
I'll try to get some pictures taken of everyone and get them posted soon :)
I'm also actively involved in The Norfolk Youth Soccer Club!
---
My "Save the Unicorns Campaign" banner can now be found
On My Good Causes Page.
Please take the time to check out these causes !
---
---
| | |
| --- | --- |
| Registration #415 | Thanks Jan !!! |
---
---


Several images were provided in an altered format for this site by special permission of the artist. The original images for these and many more are at Novel Art. :)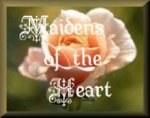 ---
You are welcome to link to my page! Here is a banner you can use, or you can use a simple text link. This is the code for the banner link :)
<P> <CENTER><A HREF="http://www.flarenet.com/~jackhamm"><IMG SRC="http://www.flarenet.com/~jackhamm/linkad.gif" BORDER=1><BR>

<FONT SIZE=+1>The Mystical Place!</FONT></A></CENTER>
It will appear like this:

The Mystical Place!
---
These pages were created by me, Jackhammer using Notepad. I would like to thank all my sources of files and links and hope we all enjoy our times surfing the net.
Special thanks go to flarenet for the use of their server.